Thinking about a custom painting for your space? Need a custom size or color palette?
I love working with art collectors and corporate clients to create commissioned paintings they can cherish for years to come!
When you need a specific concept, size, or color palette for your space, a commissioned piece is the way to go! I want to make sure you feel confident in your choice to acquire the perfect custom piece for your space. Let me de-mystify the commission process by answering some frequently asked questions. 
Using the form at the end of this page, share your ideas so that we can discuss the general concept for the commission, including style, preferred sizes, and color palette. I welcome pictures of the space, your inspiration, and any other details you would like to include so that your commissioned artwork will be a perfect fit for you.  Once I have a sense of your likes and needs, all other stylistic and aesthetic decisions are based on my unique painting process. 
Note: Let me know if there's a specific painting of mine that you would like me to use for inspiration. While I do not paint replicas, some can be iterated in similar style. Put simply, they can be cousins, but not twins.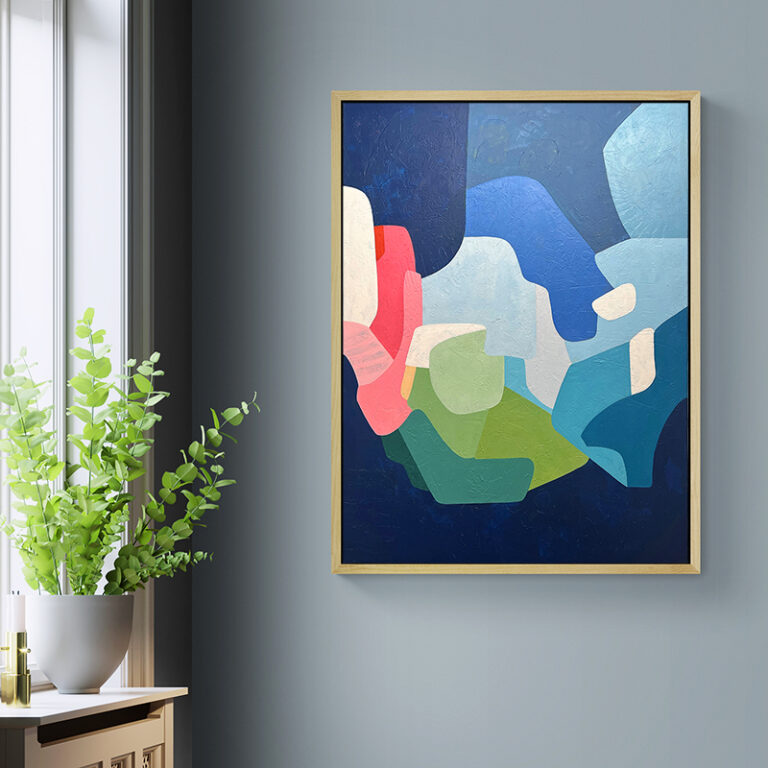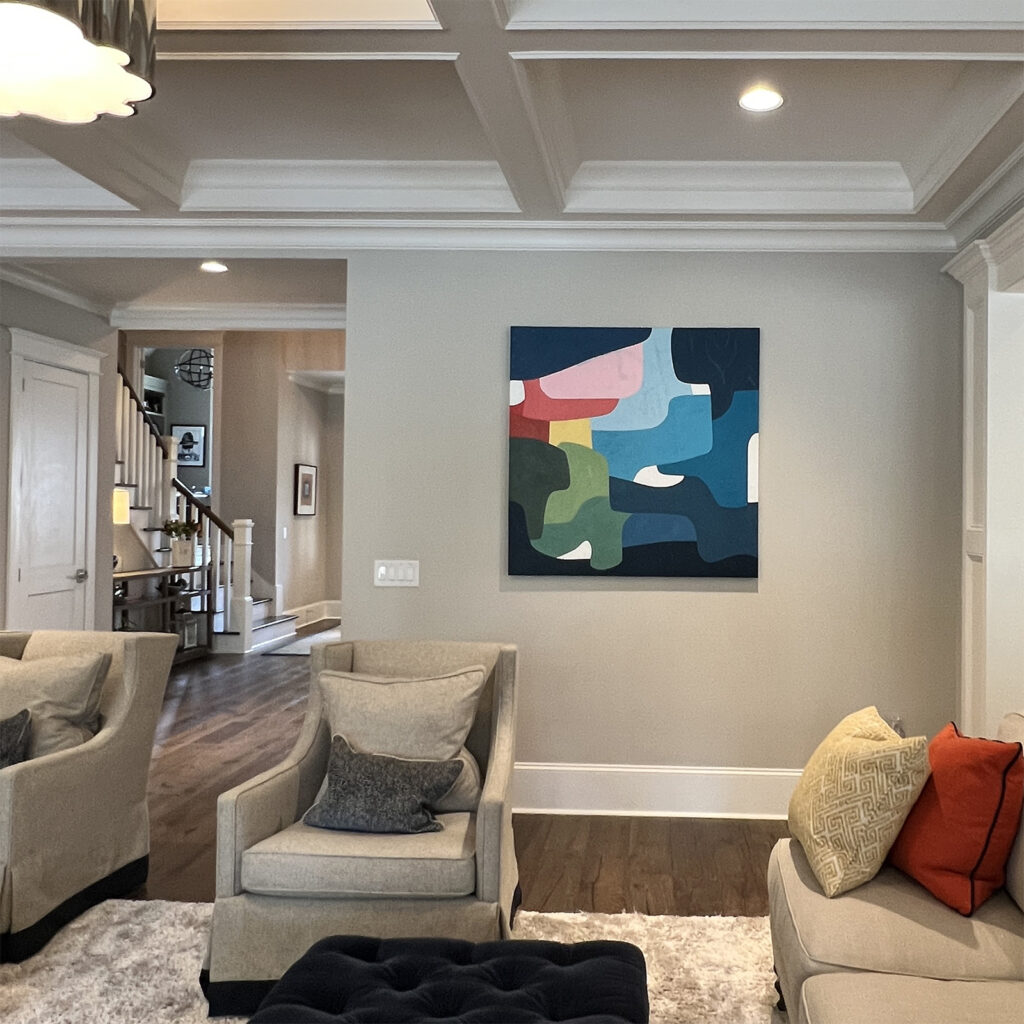 For years, Kimberly looked for an artist whose artwork she could connect with. She reached out to me through the commissions page on my website and after a couple of emails, we arranged a home visit. We discussed the aesthetic of the space, the love of water-related activities in both our families, and a color palette inspired by an art piece one of her sons created in his youth. Based on our conversation, I created two paintings and they got to choose their favorite on installation day.
"It's important for us to have art in our home that we connect with. We wanted to work with a North Carolina artist to invest in the local art community, and it was also important for me to work with an up-and-coming female artist. I looked for a long time before finding Adriana, whose aesthetic matched exactly what we were looking for. We love the piece we commissioned and it is the perfect addition to our home" – Kimberly L.
After filling out the form at the end of this page, I will email you so we can begin our conversation. It may be followed by a home visit (for folks in or near Raleigh), or a video phone call. During our conversation, we will discuss the information you submitted on the form, including the following details:
Inspiration – Would you like for your artwork to be inspired by one of my existing paintings? Is there a landscape or travel destination that keeps calling to you? Is there a poem, verse, or specific words you would like for me to interpret on the canvas?
Color – Do you have a specific color palette in mind? Is there one particular color you would like to make sure is included, or excluded?
The Space – What kind of room or area will the artwork live in? Will the artwork be near existing furniture or out on its own? Any light fixtures nearby?
Time Frame –  Is there a specific date you're hoping to have this for? Depending on requested sizes and design complexity, commissioned artwork may be completed in a couple of weeks, or several months.
Shipping/Delivery Options – Once we've decided on the artwork sizes, we can discuss whether you'd prefer to pick up at the studio, have it personally delivered to your home (if you live in, or near Raleigh, NC), or have it shipped.
The painting process begins once a 30% deposit has been received to cover initial materials. A 50% deposit may be required for larger paintings and complex projects. Payments are collected via Paypal or Honeybook. This allows you to pay with a credit card even if you do not have a Paypal or Honeybook account. Each month after, an invoice will be sent with a link to send payment for the amount due that month. By making a payment, you are agreeing to the payment plan terms and conditions – please read before submitting your commission request. More details on the payment plan can be found here. 
Commissioned paintings are 36×36 inches or larger. Below are pricing examples (excluding tax and shipping) based on standard canvas and panel sizes. Please note that irregular sizes, and paintings over 48 inches long may incur additional charges. Payment plans are available.
Pricing Examples:
36 X 36 inches = $2000  ||  36 x 48 inches = $3000  ||  48 x 48 = $3800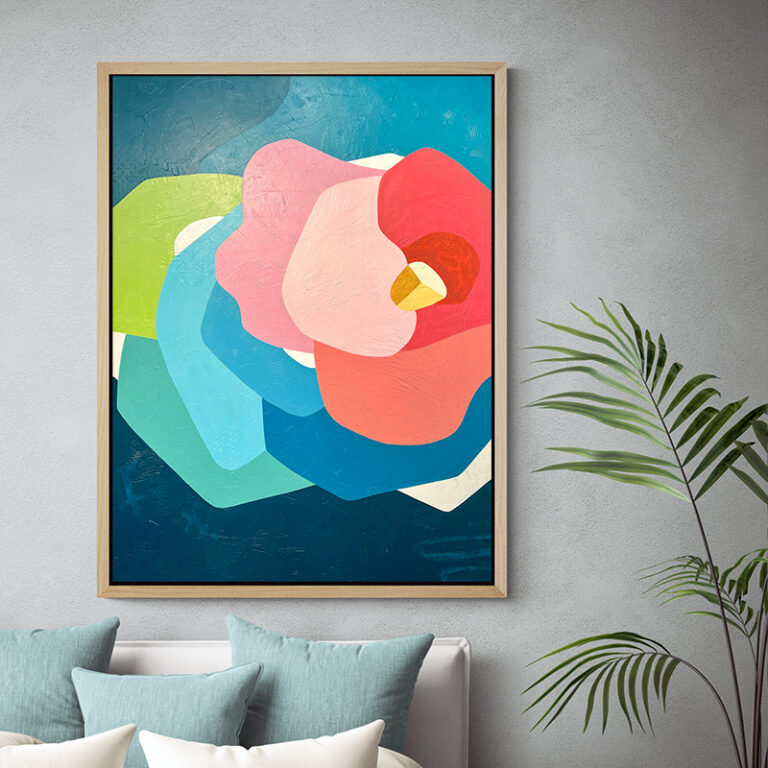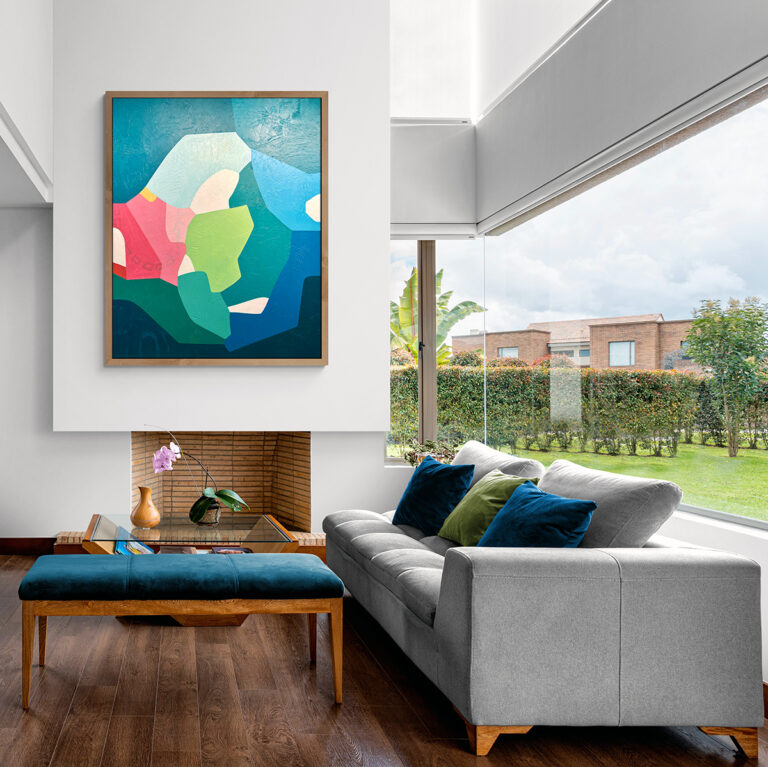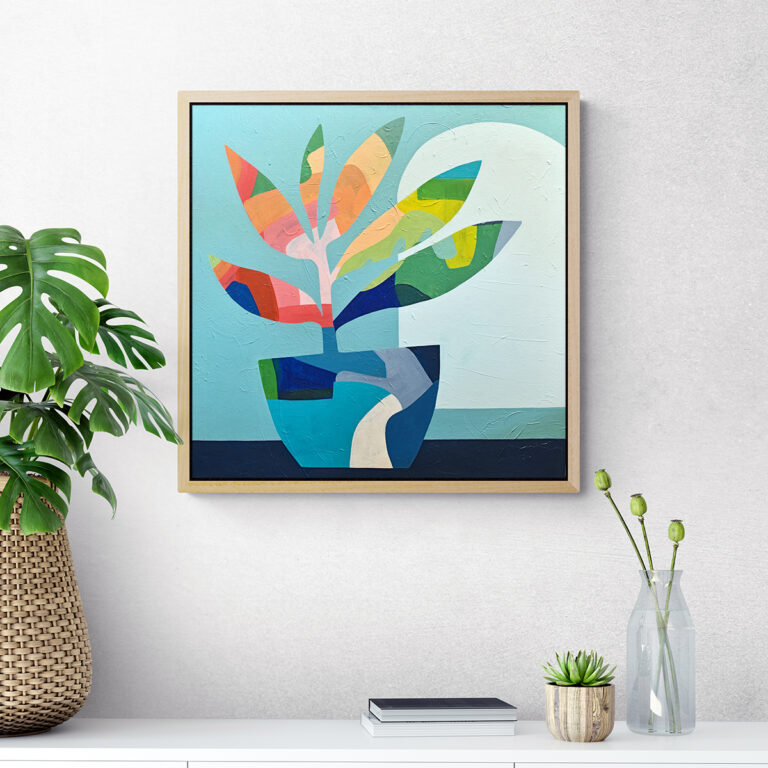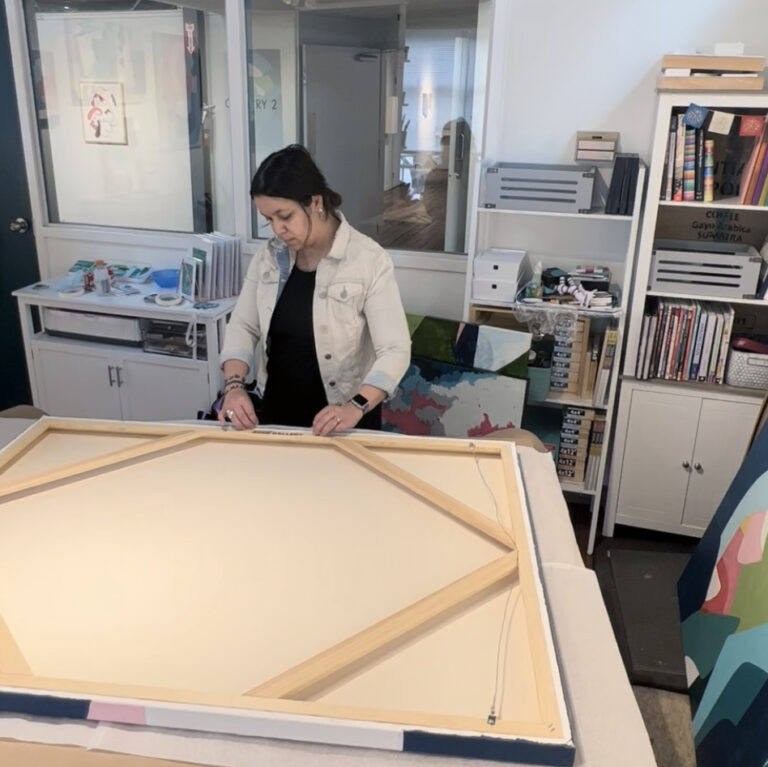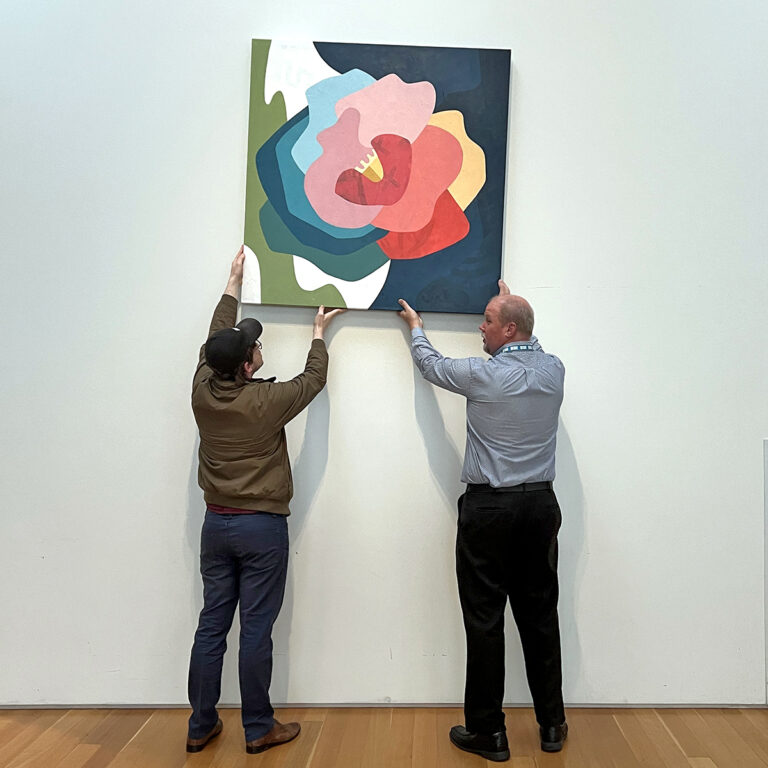 Once the artwork is near completion, I will share photos or video of your lovely commissioned artwork, or you can come to see it in person at the studio! We can discuss minor modifications, like changing the sheen of the painting (from satin to matte), but remember that you are investing in my unique painting style and aesthetic, so not all changes may be possible. 
At this stage, if the artwork does not work for you, then you may use the non-refundable deposit, and any other payments made, as a store credit and applied to other artwork(s) for up to one year (12 months) from the time of the last payment.
Once you approve the artwork, and the final payment has been received, I will add varnish and hardware so it will be ready for pick up at the studio, local delivery, or shipping. Shipped artwork will be professionally packaged and insured with FedEx or comparable carrier.
And this is the fun part, time to enjoy your cherished new pieces! Once the artwork has been installed, send me photos of the paintings interacting in their new home!
Use the form below to give me ideas of what you're looking for. I look forward to creating a custom piece for your collection!
In this video, I cover the commissions process on this page, as well as some of the most frequently asked questions I've received. While I go over my process, you will also see some larger artwork created in the background! If you have additional questions, please feel free to contact me so we may discuss.

p.s. Please note this was one of my first YouTube videos (when I was still figuring out audio), so there's a chance you may need to turn up the volume on your device.