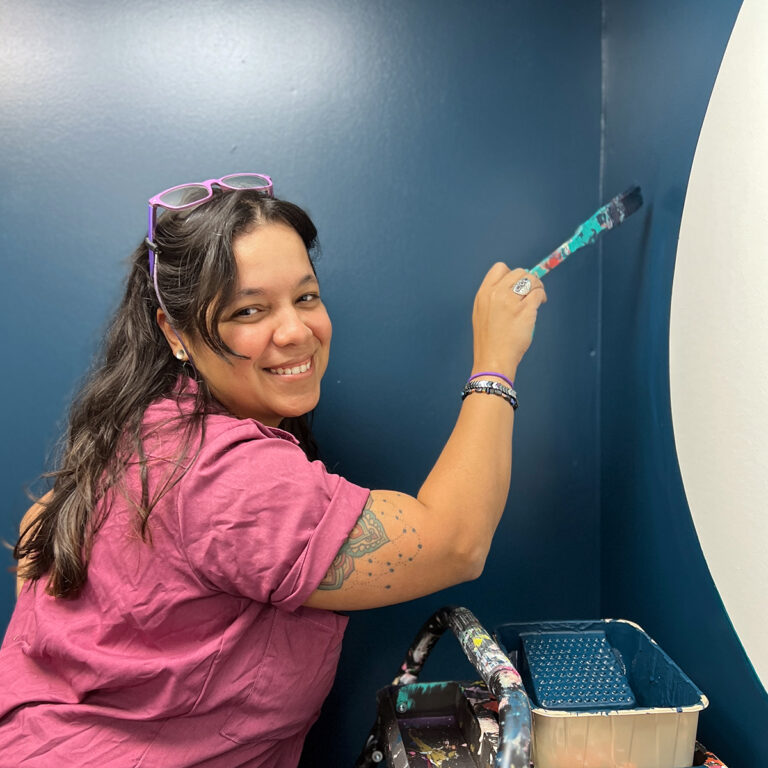 There's something undeniably satisfying about having an expansive canvas to bring ideas to life. Unlike art confined to smaller surfaces or digital screens, murals on large walls offer an immersive experience. A mural can transform a plain wall into a captivating focal point, infusing vibrant energy into its surroundings and becoming an integral part of the architecture.
My favorite part about murals, and art in general, is the positive impact it can have on our well-being. Colorful, larger-than-life artwork, can release cortisol in our brains and generate feelings of happiness and excitement! I also love how accessible it is, allowing folks from all walks of life to engage with art in a meaningful way.
Let's work together to create the perfect mural for your space!
"Prismatic Oasis" on Hillsborough Street, Raleigh, NC
In early 2023, I was approached by a local arts non-profit to create a large and colorful mural on Hillsborough Street. The mural would be visible from inside several businesses in the same parking lot, as well as the main road.
We met on-site and discussed how the mural could incorporate a colorful palette, flora and fauna, as well as elements from various embroidery traditions from around the world. One big challenge presented was the parking lot – it's on an incline, and often packed full of cars. To minimize the amount of time working on-site, blocking off customer and tenant parking spots, I decided to use an industrial mural fabric called PolyTab. I enlisted the assistance of three artists and over the course of several weeks we primed, painted and varnished the largest elements of the mural in my studio building. When it came time to install, we rented a large lift and bit by bit the wall came to life! It was an amazing experience, looking forward to the next one!
"The mural is fantastic! I am thrilled with how it turned out. It mural makes the entire area look happy and bright. It's sure to become a selfie spot!"
– Amy L., building tenant/business manager.
Special thanks to all the folks that helped make this project possible:
Hillsborough Street Service Corporation, Artsplosure, Needlepoint,
Cindy Morefield, Ana Payne Rogers, and Jackie Sanders.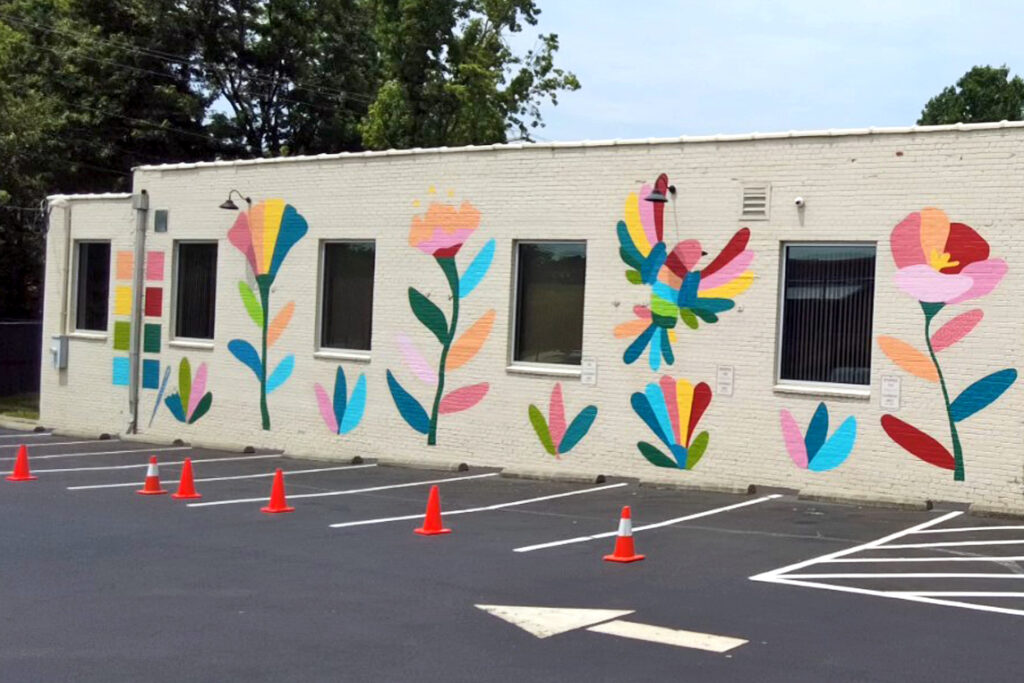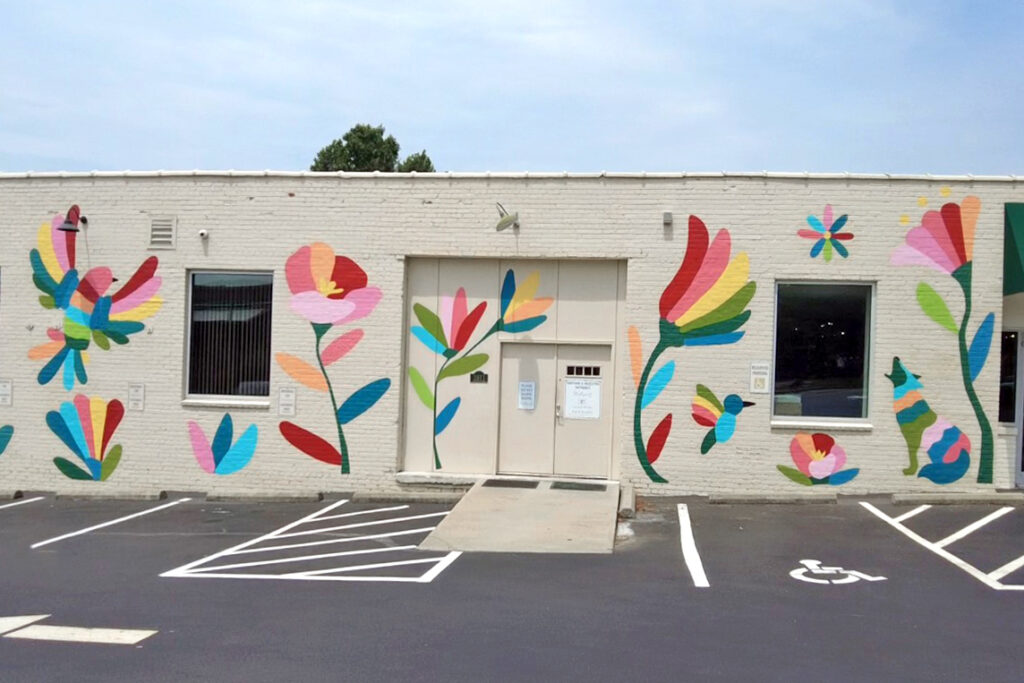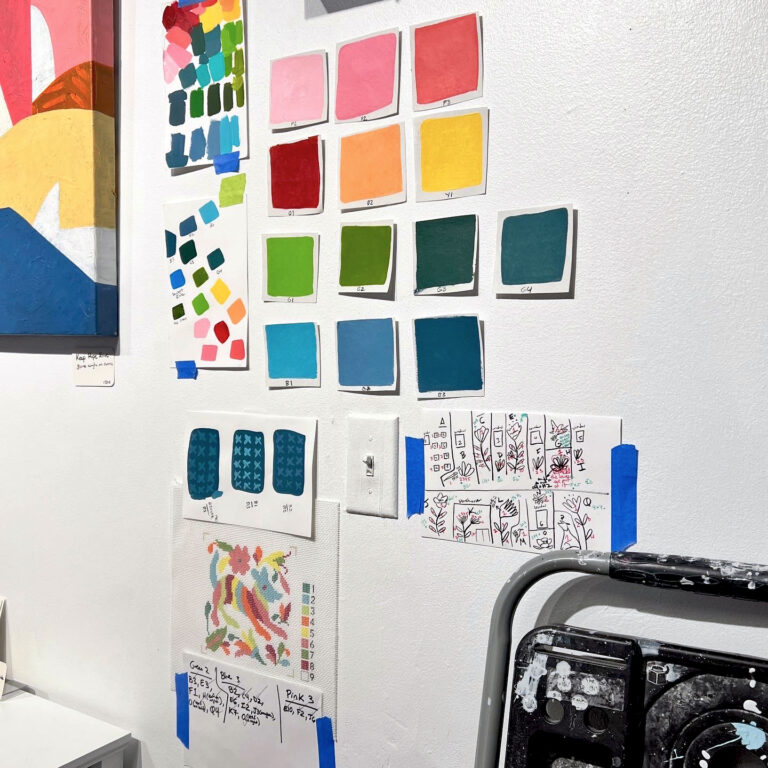 Here's a quick overview of the process to create the perfect mural for your space!
Submit the Mural Inquiry Form – include inspiration images
Complimentary Discovery Call – let's discuss the space and your goals
Preliminary Designs Presented – this will help us visualize the mural in your space
Contract and Invoice – deposit sent and documents signed
Final Design Approval – one round of revisions included for proposed designs
Mural In Progress – on-site work begins, the most intense part of the project
Project Wrap-Up – the finished mural is unveiled, the space is transformed!
Mural project minimum: $2,000
This includes preliminary designs with one round of revisions, client correspondence, prep and installation, supplies and insurance.
Murals can be indoors or outdoors, residential or commercial, and can be painted on specialized panels, especially convenient if installed in a rented space.
Final project pricing will be determined by a variety of factors including wall size, complexity of design, lift/scaffold equipment required to access the space, additional design revisions, and travel costs for projects more than 40 miles outside of Raleigh, NC.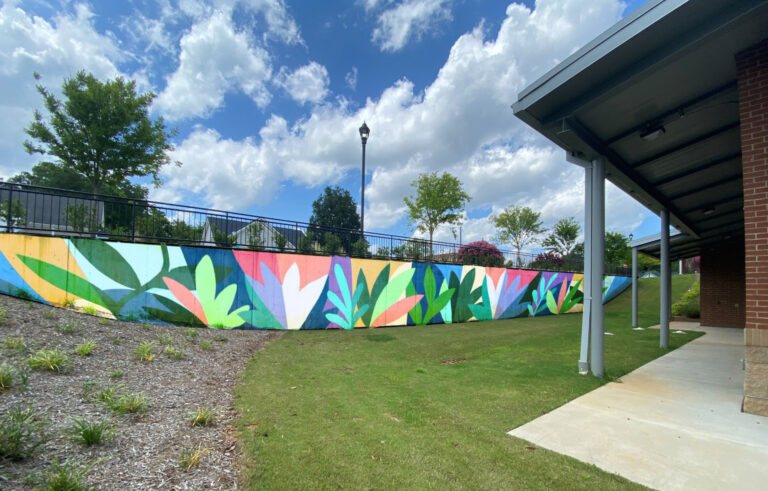 Much like commissioned paintings, murals are a collaboration where we blend your creative inspiration with my painting style. Proprietary images, characters, and other intellectual property can be great sources of inspiration, but can't be used without the owner's permission.
Do you have a logo, company slogan, or industry you'd like represented? Let's discuss how we can incorporate them into the design.
Do you have a team, institution, or community that you would like to bring together on a collaborative mural project? Let me know on the mural inquiry form.
"Chromatic Dreamscape" was an amazing mural project that I facilitated for high school students in 2023. Through this project, students learned about the mural process, expressed their creative vision, and worked together to transform an interior wall at Artspace in downtown Raleigh, NC.
Ready to discuss your mural idea? Use the form below to share more about your inspiration and the space.