If you have any questions please contact me in advance through the contact page, or send me an e-mail at [email protected]
I want you to be happy with your new artwork. Every care has been taken to show the artwork as accurately as possible with regard to size and color. The image you see online may show a difference due to slight variation between browsers, devices and screen settings. Any variation between the image represented and the actual artwork is not deemed a fault and such inconsistencies will not be a valid reason for return. Additional photos and video are available upon request.

Policies, Terms and Conditions addressed on this page include: Ordering, Shipping, Returns, Payment Plans, and Art Workshops
How is my payment handled?
If you're purchasing through this website, you can add artwork to the online "cart" and go through the secure check out. Payments are accepted through Stripe and you can use your regular debit or credit card. The card information used to complete the transaction is safely encrypted through the payment processing service and I do not have access to this information.
Purchasing with a deposit
As the value of my artwork grows, I understand purchasing with a deposit can be a helpful option. You can reserve a painting with a 30% non-refundable deposit. The remaining balance can be paid in full, or payable in monthly installments as agreed upon. More details on the Payment Plan section on this page. 
Paying with Venmo or other transfer options
Using direct transfer payment processing systems like Venmo or CashApp is fast, convenient, and reduces card processing fees. If you would like to pay using one of these services, please send me an email and I will get back to you with details on how to pay.
Can I collect my artwork from your studio?
Absolutely! In the online cart you can select the option to pick up at the studio. Please add your preferred pick up date and time to the Order Notes section on the checkout page and we'll go from there.
You can generally pick up artwork at my downtown Raleigh studio on Fridays and Saturdays. Please note that art products such as prints and stickers are shipped directly to your address and are not available for local pick up.
I have placed my order online, how soon will I receive my artwork?
Most orders will be packed and shipped within 5 working days*. Within the United States, most pieces are sent with insurance and tracking through FedEx, or UPS depending on size and weight. Most US deliveries will arrive within 3-5 business days from time of shipping. 
Art products, such as prints and stickers, are made to order, sent directly from the fulfillment partner, and usually delivered in 7-14 working days. 
International delivery times will vary based on destination.
If you need delivery by a specific date, please contact me first to make sure it can reach you in time. There may be an extra charge for expedited shipping depending on your location and time requirements.
*Oil paintings take a substantial amount of time to dry. I will ship the painting as soon as it can be safely packaged, but please note this can take 4-6 weeks from painting completion.
How will my artwork be shipped?
All artwork is wrapped in glassine or tissue paper, brown paper, padding, and sent in a sturdy cardboard mailer or box.
All paintings will be shipped unframed unless otherwise noted in the painting's description.
Paintings on paper will include a complementary white acid-fee bevel-cut mat and a backing board.
Some paintings on canvas may have the option to be unstretched and rolled safely in a sturdy mailing tube. In those instances, the buyer can work with their framer of choice to build the support bars and stretch the canvas.
I use recycled and recyclable packaging as much as possible.
What about shipping costs?
Each artwork has an estimated shipping cost calculated at checkout based on the size of the work and your location. I do not make a profit with shipping. If the actual cost of shipping is significantly different from what was quoted, I reserve the right to request additional funds to cover shipping, or to refund you the surplus. Please contact me with you complete address if you would like a shipping quote in advance.
Shipping costs contribute towards packing supplies, labor, and transit fees.
For art products such as prints and stickers, I work with a printing fulfillment partner. Their shipping costs are automatically calculated at checkout.
What about shipping large paintings?
Shipping costs for large artworks (3ft or larger) need to be quoted individually – please contact me before purchasing. I will email you to discuss shipping options, including whether or not the painting can be sent unstretched and rolled in a tube. If you buy online first to reserve the painting, I may request additional funds to cover the shipping cost if they are significantly higher than the amount calculated at checkout.
Can you ship internationally?
Yes, I can ship to most countries, although it may take longer to arrive based on your destination. Send me an e-mail with your complete address for delivery options and to get an accurate shipping quote.
Overseas shipments (outside the US) may be subject to import duties and taxes according to the laws of the destination country. I have no control over these potential charges nor a way to verify them. The customer is solely responsible for all import duties and taxes.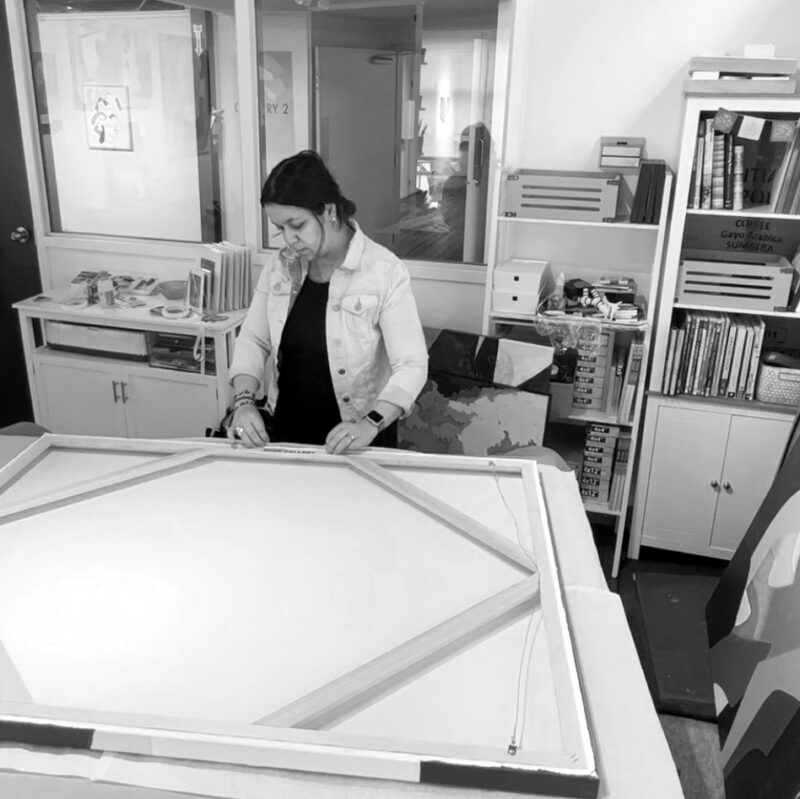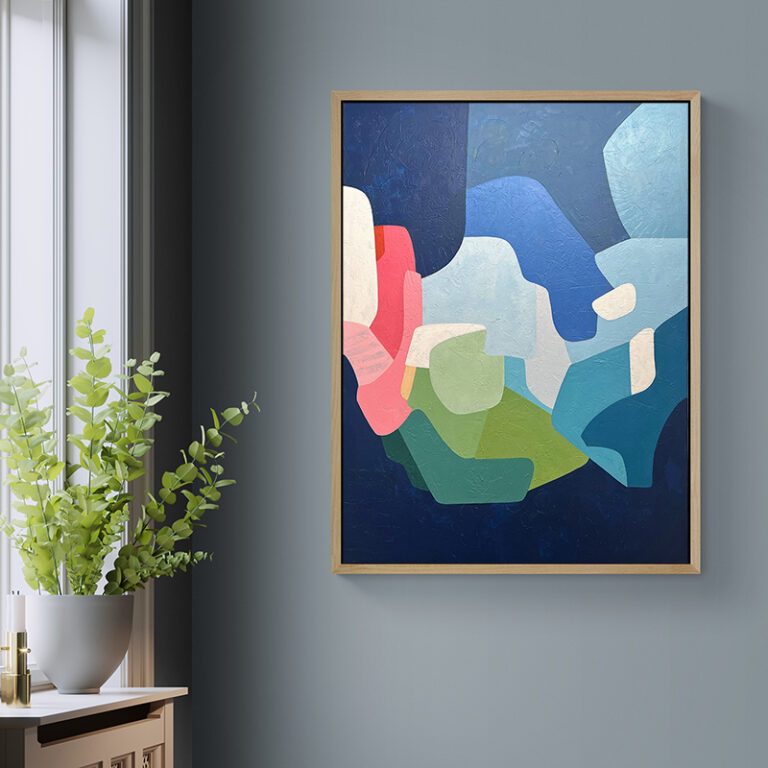 Can I return the artwork I purchased?
I want you to be fully happy with your new acquisition, but if the piece doesn't work in your space, I offer a store credit agreement. If you wish to return an original painting (commissions excluded), print or product, there will be a restocking fee of 20%. The remaining balance will become a store credit that can be applied towards another original painting, print or product for up to one year (12 months) from the time of the original purchase.
You have 3 days from the date the artwork was delivered to contact me by email and request a return. Once a return has been agreed, you are responsible for shipping costs and delivery arrangements with an approved carrier like FedEx or UPS. The return must have tracking and you are responsible for adding insurance in case of any loss or damage during transit. The artwork must be returned in its original condition, undamaged, and securely packaged (ideally the same packaging it arrived it). The artwork must be returned within 14 days.
Once the piece has been safely returned in the same condition it left the studio, you will receive a store credit to use on other paintings, prints or products..
At this time, this arrangement is only available for artwork sent within the United States.
What if my painting arrives damaged?
All artwork is carefully packed and wrapped so that it arrives undamaged. I am not liable for factors outside my control such as mishandling or failed delivery by the shipping service (UPS, FedEx, USPS, international carriers, etc.), and any damage incurred post-delivery. That being said, if you receive a painting, print or product that has been damaged in transit, please contact me within 3 days and send photos. I will work with you on a case-by-case basis to see if there's a way to rectify the situation.
Can I reserve a painting with a deposit?
Yes you can! As the value of my artwork grows, I understand purchasing with a deposit can be a helpful option. You can reserve a painting with a 30% non-refundable deposit. The remaining balance can be paid in full, or payable in monthly installments as agreed upon. 
The number of payments and timeframe will be discussed on, or prior, to the first payment. Once you make the initial deposit, I will hold the artwork until the balance is paid in full. If applicable, fees for packaging/shipping are calculated and added to the last installment.
By purchasing with this option, you understand that the deposit is to reserve your artwork and you will be required to pay the remaining balance. If a situation arises that necessitates cancelling the payment plan, the 30% non-refundable deposit can be applied towards the purchase of another painting. 
This is not a credit setup, but an arrangement on trust, at no extra cost to you. Usual shipping costs and return policy will apply.
A larger deposit may be required for commissioned paintings on larger canvases, or complex projects.
Payment plan example:
$1,500 total (this includes tax and shipping costs)
30% down payment = $450
4 monthly installments = $262.50 each
Is there an interest fee?
As a courtesy to my collectors, you pay no interest when you purchase your art through the agreed payment plan.
How do I make payments?
Payments are collected via invoice. I currently use Paypal and HoneyBook invoices which allow you to pay with a debit or credit card even if you do not have an existing account with either service. Each month thereafter, an invoice will be sent with a link to send payment for the amount due that month.
Is there any flexibility?
The payment plan is a legally binding contract, but it's also flexible. I understand that situations may arise that change your ability to pay. If you happen to receive a windfall, you can make larger payments to get your artwork sooner. If you run into unexpected circumstances, contact me to arrange for a longer payment period (up to 6 months from the deposit date).
Can I cancel payments?
If you have initiated a payment plan and for some reason, after having made one or more payments, wish to cancel further payments, you may do so, with the following conditions:
• You must notify me immediately so that I can put the artwork back on the market.
• The payments already made are non-refundable, but they may be used as a store credit and applied to other artwork(s) for up to one year (12 months) from time of payment plan cancellation. After one year, any unused store credit will be forfeited and applied as a service fee (compensation for the time the artwork was reserved and unavailable for other people to purchase it).
Nonpayment and failure to communicate
If you can't make a monthly payment, please let me know as quickly as possible. If I receive no payment or communication from you for 60 consecutive days, you will be in default, and the payment plan (contract) will be terminated. The reserved artwork will go back on the market, and you will forfeit whatever payments you have already made. In other words, when you make no payments, nor communicate with me for a period of 60 days or longer, the art will not be yours, and no refunds will be made.
My art workshops are designed to foster a welcoming learning environment for artists and enthusiasts. Most classes are open to all experience levels, but some are for intermediate artists – the class listing will clearly indicate what student level it's suitable for.
Class Registration
Registering is simple, add your class selection to the online "cart" and go through the secure check out. Payments are accepted through Stripe and you can use your regular debit or credit card. The card information used to complete the transaction is safely encrypted through the payment processing service and I do not have access to this information. All classes require full payment for successful registration.

Please make sure the e-mail address associated with your account is your primary e-mail address, as that will be used for all communications

Cancellations
If a student cancels more than 7 days prior to a class start date, they will receive a workshop credit minus $20 non-refundable registration fee. No refunds or credits for missed classes. If a student communicates, with sufficient advance notice, that they need to miss one class in a multi-session workshop, every effort will be done to help the student work around it. 

During the registration period, I may need to cancel a class due to low enrollment or severe weather. I will do my best to switch students into similar classes, or offer a credit. Students will be notified at least 24 hours prior to the class start date if their class is cancelled.
Workshop credits are valid for 1 year and can be used for future classes, original art and products.

Preparing For Class
Parking:
There are green signs on Davie, Blake and Person streets for complimentary 2hr parking before 5pm, and free after that unless posted otherwise. Blue signs are for metered parking, red for loading zones. Also convenient to the studio building is the City Market parking lot – it's economical and can be paid at an electronic station or through a smartphone app.
What to Bring:
Art supplies are included for most classes, but please check class descriptions for any required or optional materials. 
Aprons are provided, but in case of spills, wear clothes that can get messy.
For longer classes standing in front of an easel, comfortable shoes are your best friend. 
Bringing a water bottle and a light snack is always a good idea. The convenience store across the street also has a good selection if you'd like to peruse before class.
Kids and Teens:
Most classes are designed for older teens and adults, but are often suitable for younger students too. For teens 13 to 16, parents can either register and participate in the class too, or remain in the studio building for the duration of the class. For kids 12 and younger, parents need to also register as students and participate in the class. 
The only exception to the above are youth classes specifically purchased through Artspace and not this website. Part of Artspace's youth class registration includes the necessary forms (and insurance) to allow minors to be dropped off.
Accessibility:
Our building is wheelchair accessible, but please let me know if a student has limited mobility and/or is accompanied by a personal care attendant. Depending on the number of students registered, I can make accommodations, including relocating the class from my studio (max 4 students) to a larger space, but need notification at least 7 days in advance. Personal care attendants are welcome to accompany the student for the duration of class and are admitted free of charge.
All artwork, reproductions and photos are copyright of Adriana Ameigh. The sale of an original art piece, print, or product does not transfer its copyright and it may not be reproduced for personal or commercial use without prior written permission.
I think that covers all, or most of it! If you have any questions, please reach out through the contact page, or send me an e-mail [email protected]
Last updated: January 2023