Frequently Asked Questions
What medium are your original paintings?
I mainly work with acrylic paints, cyanotypes, and oils mixed with cold-wax medium. Please refer to the painting's description for details.
Are your paintings framed?
It varies, but most paintings are sold unframed. Some paintings are shown framed for illustrative purposes, and some include a frame – please refer to the painting's description for full details. All paintings have painted or natural wood sides (panels only) which many collectors have expressed appreciation for. This gives you the option to display the artwork unframed with a clean modern look. You also have the option to choose the frame style that best works with your space and aesthetic. While it isn't necessary to use glass for paintings on canvas or wood panel, it's best to keep them out of direct sunlight.
Paintings on paper will include a white acid-fee bevel-cut mat and backing board so they are ready to frame and display.
Please contact me if you would like advice on bespoke framing or have any further questions.
Will my painting be ready to hang?
Outside of small paintings (<10in) and works on paper, all other paintings on canvas or panel come with hanging hardware installed. You just need to decide where to display them!
My favorite painting has sold – how can I find out when new work is available?
Some pieces sell very quickly! Make sure you sign up for my Studio Notes to get first access to new work, studio events, and exhibition news. You can also follow my journey on Instagram or Facebook and see artwork in progress.
How will my painting be wrapped?
All artwork is wrapped in glassine or tissue paper, brown paper, padding, and sent in a sturdy cardboard mailer or box. Each one is unique, so I take care that to protect them well so they arrive in perfect condition. For further details about delivery please see the Purchasing & Shipping page.
Do you paint special commissions?
Yes! Commissions are open throughout the year and scheduled based on my studio workload and your ideal timeframe. If you like my style and want to get on my commissions calendar – please check out details on this page.
What is an art print?
A print is a high quality reproduction of an original artwork, the detail is so fine you can't see the printed dots with the naked eye.
How are the prints made?
A high resolution photograph of the original work is taken and carefully color adjusted to ensure an optimum match. The prints are made with a professional printer that uses a wide range of long-lasting inks (+50 years). I currently offer two types of prints:
Giclee Canvas Prints – specialty giclee canvas primed to accept inkjet ink. They are mounted on cradled wood panels, varnished and the sides are painted in coordinating colors.
Fine Art Paper Prints – heavyweight professional quality photo paper with a satin finish made in Japan, or 100% cotton rag paper made in France. Please see product listing for available options and details.
Do you make prints of all your paintings?
No, most are only available as originals. Only a few of my favorite paintings are selected to be printed.
Can I order a print of a different size?
Most prints have several sizing options so you can choose what works for your space, although not all are available in large sizes. Also take into account that once you have added a matt (for a paper print) and a frame, the final display dimensions will be larger.
Will my print be framed?  And how will it be packaged?
All prints are sold unframed. Most paper prints will be rolled in an extra strong cardboard tube to make sure it reaches you in best condition. Giclee canvas prints will be wrapped with glassine or paper, well padded, and sent in a sturdy cardboard mailer or box. For further details please see the Purchasing & Shipping page.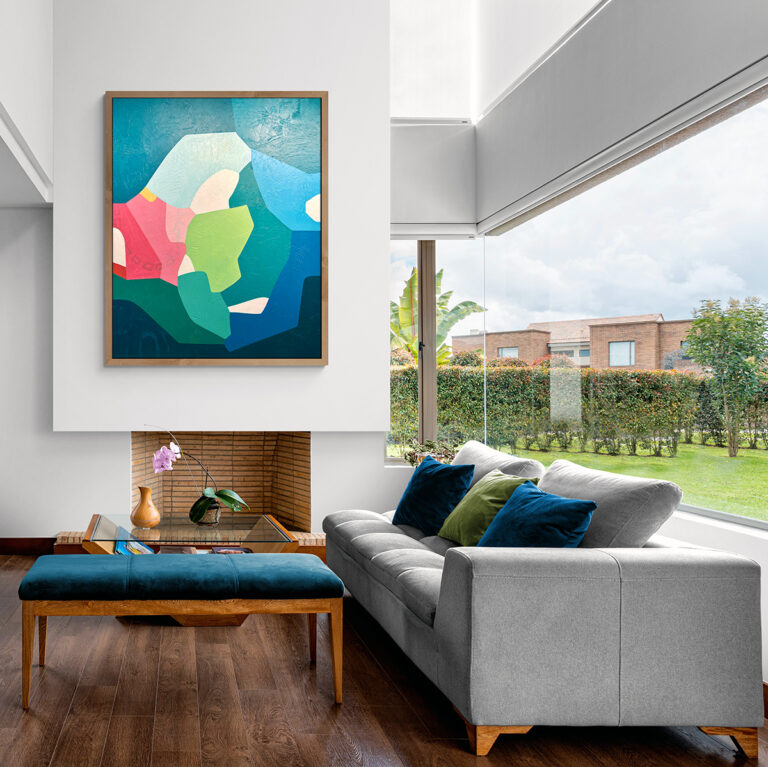 Who owns the painting?
I retain all rights to all artwork I create. This includes the rights to the image of sold & commissioned original paintings. I retain the right to make reproductions of all the artwork I create, unless the collector has purchased the full or partial rights to the artwork (this is in addition to purchasing the original).
The collector or buyer may not reproduce the artwork in any way without written permission.  
If the artwork ends up being reproduced in a magazine or other media, please notify me in advance. I only ask for name credit, and also, congratulations on your media exposure!
When you purchase an original painting, you have the right to display the artwork in your home or business, but the artwork may not be resold or reproduced without my written permission.
Please let me know if you are interested in purchasing full or partial rights to your painting. Some collectors choose to purchase my rights to print the artwork to ensure it will never become a paper print or product. I am happy to discuss terms with you, send me an email to get started.
Do you work with stockists and galleries?
Yes, and I am honored you would like my artwork on your walls and in your gallery! Please send me an email to discuss your gallery and display ideas.
Do you work with sales consultants and corporate commission clients?
Yes, and I am happy to prepare a project proposal for you and your team. Please head over the commission page. to get started.
Do you work with interior designers?
I am currently looking for designers to partner with. I would love to see my artwork in elegantly designed rooms! Please send me an email to get started. While I do not offer discounts on original paintings, a commission arrangement can be discussed. Discounts may be available on prints based on volume.
Where can I find information about purchasing & shipping?
For detailed information, please head over to this page.
All artwork, reproductions and photos are copyright of Adriana Ameigh. The sale of an original art piece, print, or product does not transfer its copyright and it may not be reproduced for personal or commercial use without prior written permission.
 I think that covers most of it! If you have any questions, please reach out through the contact page, or send me an e-mail [email protected]
Last updated: April 2022