The art studio is bursting at the seams! 🙂
I thrilled to share with you my newest artwork, First Friday updates, new workshop dates, and more. So without further ado, let's dive right in!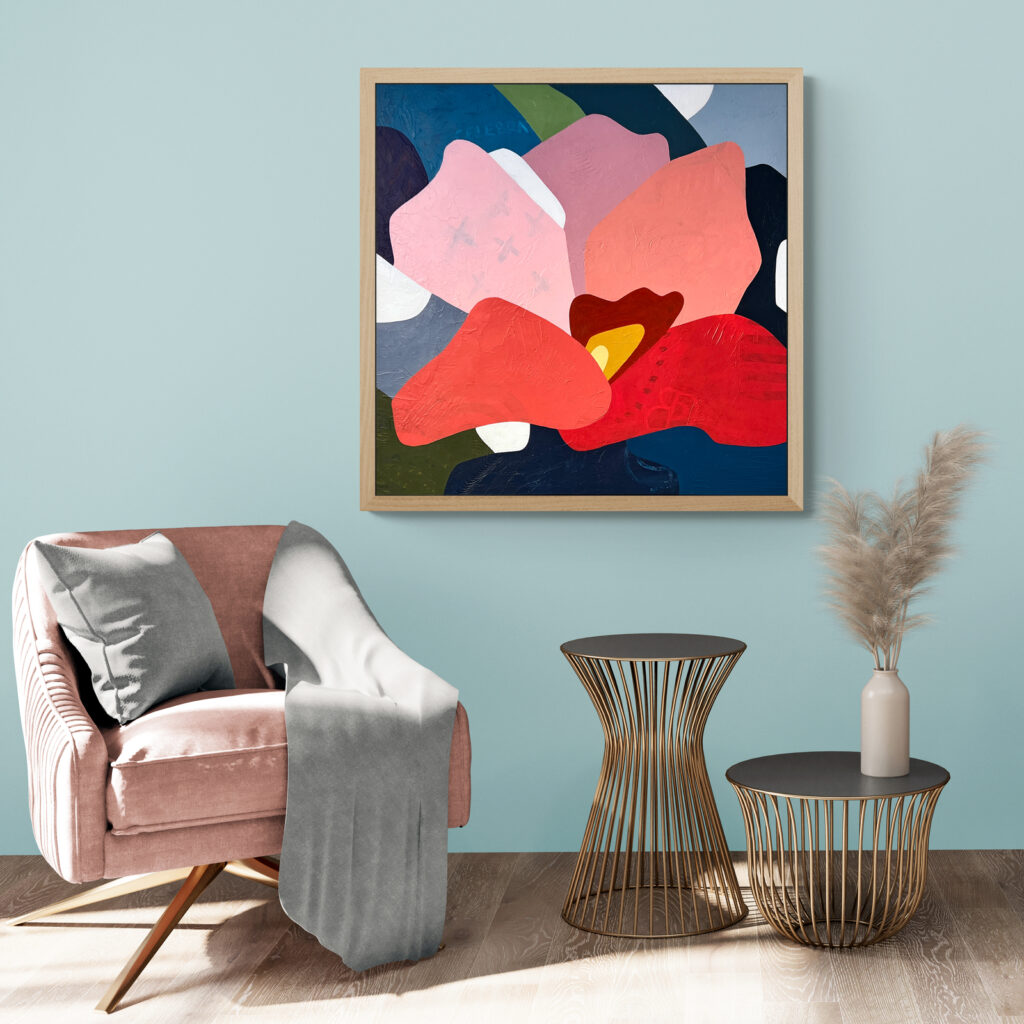 This week, I'd like to highlight 3 of the new works on canvas, starting with the smallest one (above), From Forest To Garden – 30×30. This piece incorporates new shades of pink and coral alongside warm greens and cool greys. Inspired by orchids, a beautiful plant that have adapted to survive wild tropical forests, and modern homes too.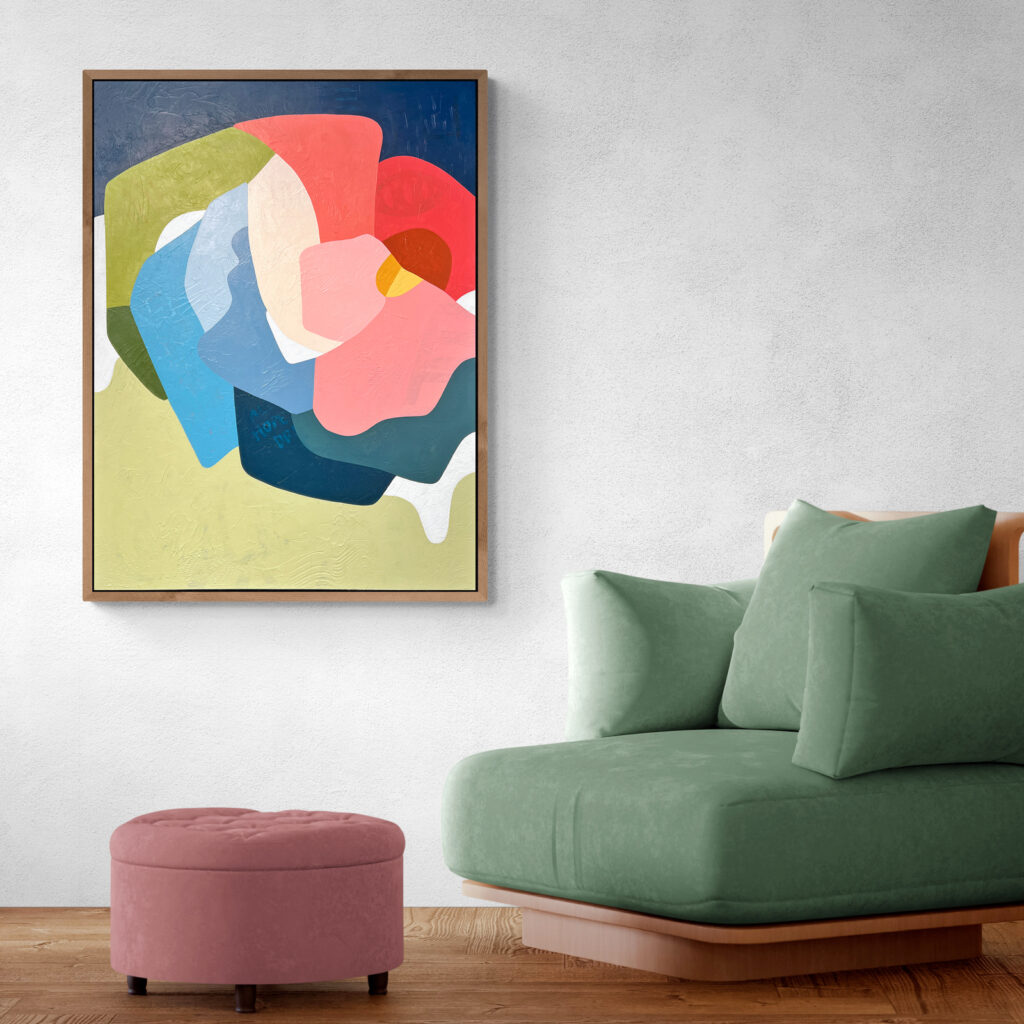 Next up is another botanical piece, The Evolution Continues – 30×40. This one is inspired by a flowering plant I looove to immortalize in paintings… camellias. They are dependable, beautiful and some even bloom while covered in snow, whoa. I painted this one with the intention of pushing the abstract boundary further, so yes it's a flower, but it has more room for other interpretations too.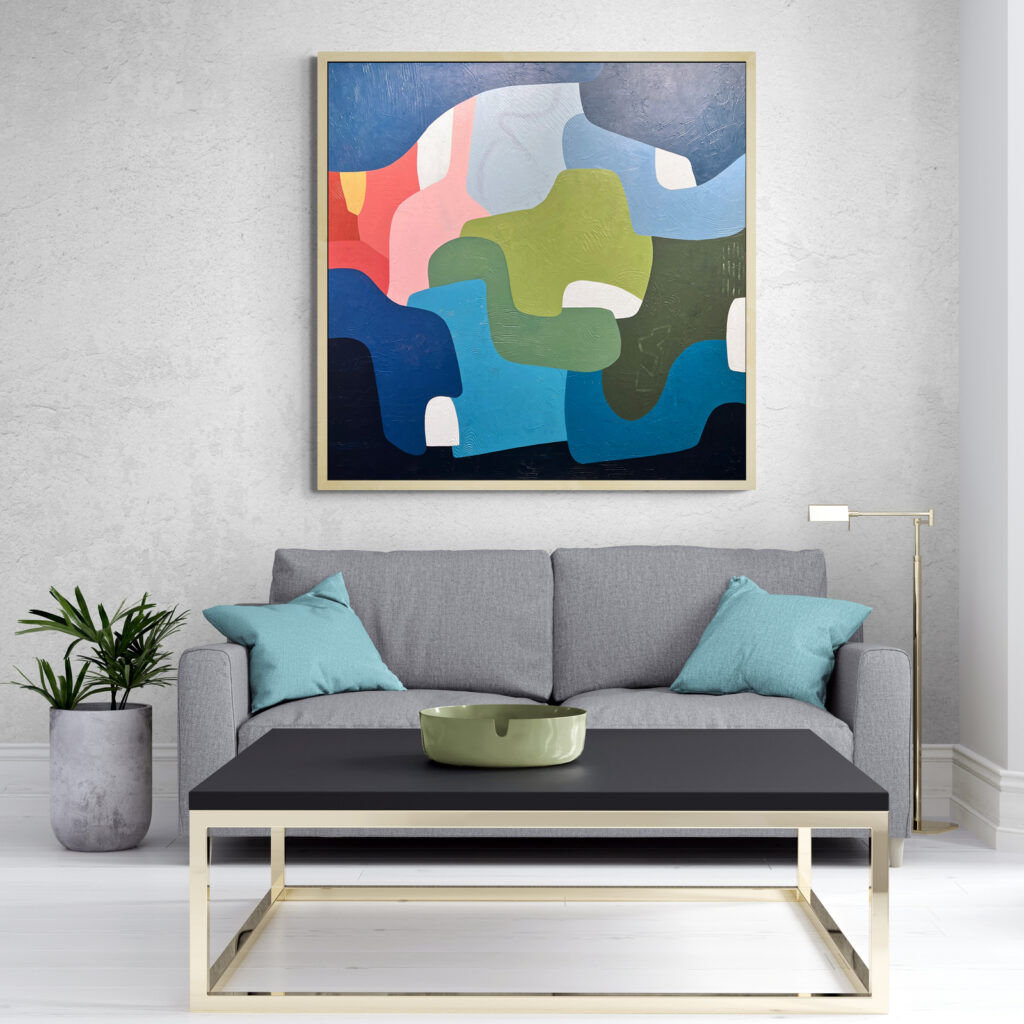 And the last one I'd like to highlight today is We Danced To The Music Of The Seven Seas – 48×48. This statement piece was inspired by the underwater world I've experienced while Scuba diving. The colorful corals teeming with life, schools of fish spiraling, a majestic sea turtle gliding by, the algae dancing with the current… and it's all connected by one amazing body of water that covers our planet! 🙂
On this email I've highlighted some of my new favorites, but you can see the full breadth of available works on paper, canvas, and wood panel on my website. I invite you to browse the collection and enjoy by clicking below.
---
In other updates, First Friday tonight includes demos by printmaking legend Bill Flick, amazing exhibitions by artists including Clarence Heyward, music, and art-making activities too! As usual, it's going to be festive! 6-10pm

Would you prefer to have more 1-on-1 time with me and other artists? 5:30 – 6:30pm is nice before it gets too busy. 🙂
---
In terms of workshops, the reciprocal transfer of knowledge, and lively art discussions, between me and the students has been so inspiring! I've added two new sessions which you can see further below, or on my workshops page.
Speaking of, if you know of any non-profits, art institutions, or corporate spaces looking for short 1-2 day workshops, please let me know so we can connect!

Last but not least, for my fellow artists, I'd love to see you during Co-Create this Saturday at 11am at Artspace. Bring your sketchbook or a work in progress while you network and collaborate with fellow Triangle area artists. It's free!

That's it for today, and if you're in the area, hope to see you tonight!
Adriana
---
more studio updates…
On the Level Up Artists Podcast:
On this episode we interview artist and Pocket Gallery owner, Caitlin Cary. In this episode we talk about the art of capturing the humble landmarks of Raleigh as the city evolves, choosing a creative discipline that is conducive to your desired lifestyle, and lifting up the voices of fellow artists in our community. More details on podcast page and YouTube channel.
Upcoming Exhibitions/Events – early 2023
"Bara Bara" group exhibition at Diamante Arts Cultural Center – open through April 8th