Excerpt from the UNC Global News Article, 'NC Artists of Latin American Heritage Reflect on Identity, Diversity in 'Being and Belonging' Opening.
Thirteen North Carolina artists of Latin American heritage discussed themes of belonging, equity and climate at the Oct. 5 opening celebration of the art exhibition Being and Belonging: Perspectives in North Carolina in the Florence and James Peacock Atrium at the FedEx Global Education Center.
Being and Belonging features more than 25 works ranging in theme, medium and tone, and celebrates the diversity of Latin American heritage. The artists draw inspiration from Mexico, Puerto Rico, Argentina, Brazil, Colombia, Peru and Afro-Caribbean cultures. At the same time, their own voices shine through.
In their remarks, many artists touched on the realities of a complex, multicultural South and the ongoing struggle for social justice and equality.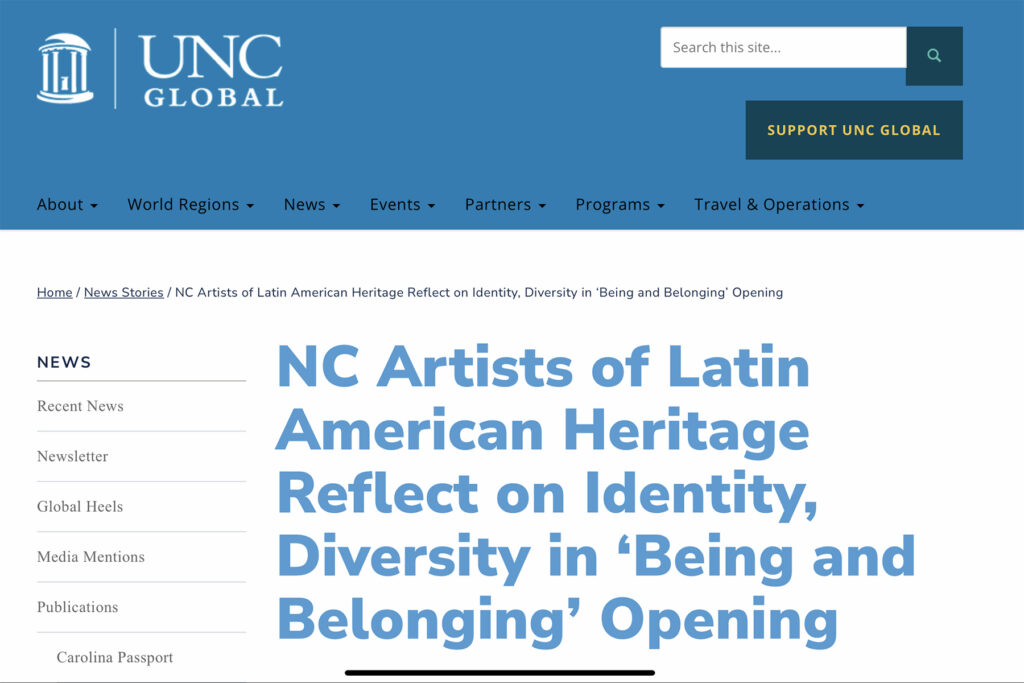 The voices of these 13 artists from across the state of North Carolina speak together in this exhibition—celebrating Latin American heritage and addressing the complexities of being and belonging.
The exhibition, organized by UNC Global in collaboration with the Institute for the Study of the Americas, will be on display through Dec. 12. Additional support is provided by Arts Everywhere, Department of Art and Art History, Latina/o Studies Program, Curriculum in Global Studies and the Carolina Latinx Center. The artists featured in the exhibition are:
Antonio Alanís, Durham, NC
Tina Alberni, Huntersville, NC
Adriana Ameigh, Raleigh, NC
Georges Le Chevallier, Garner, NC
Gabriela Costas, Winston-Salem, NC
Alexandre Emmanuel, Raleigh, NC
Lina Fernández Giraldo, Greensboro, NC
Gloribel Irizarry, Winterville, NC
Leandro Manzo, Charlotte, NC
Peter Marín, Raleigh, NC
Renzo Ortega, Carrboro, NC
Alexander Lee Quiñonez, Durham, NC
Tina Louise Vasquez, Chapel Hill, NC