Excerpt from the Daily Tar Heel Article, 'Part of what's here': Being and Belonging exhibit hosts Latinx artists across N.C., written by: Valeria Cloës
The "Being and Belonging: Perspectives in North Carolina" exhibition, hosted by the UNC FedEx Global Education Center, highlights the work of 13 artists of Latin American heritage from across the state.
The exhibition will be on display until Dec. 12 and aims to introduce a greater audience at UNC to a Latin American aesthetic sensibility.
"The idea for the exhibit originated as an effort to introduce the Carolina community to global perspectives in a local setting, and to help cultivate an appreciation for the varieties of Latin American experiences that flourish — often unrecognized — across the state of North Carolina," Beatriz Riefkohl Muñiz, executive director and director of undergraduate study for the Institute for the Study of the Americas, said in an email statement.
"Being and Belonging" was organized by UNC Global in collaboration with the Institute for the Study of the Americas, UNC doctoral student Katherine Stein said. The organizers were also supported by several campuses and community entities: Arts Everywhere, the UNC Department of Art and Art History, the UNC Latina/o studies program, curriculum in global studies and the Carolina Latinx Center.
Stein said she is co-organizer of the exhibition alongside Ingrid Smith, who is the interim director of communications and events at UNC Global.
The artists featured in the art exhibit are: Antonio Alanís, Tina Alberni, Adriana Ameigh, Georges Le Chevallier, Gabriela Costas, Alexandre Emmanuel, Lina Fernández Giraldo, Gloribel Irizarry, Leandro Manzo, Peter Marín, Renzo Ortega, Alexander Lee Quiñonez and Tina Vasquez.
Le Chevallier, Marín, Alanís, Ameigh, Costas and Emmanuel shared some of their experiences with The Daily Tar Heel.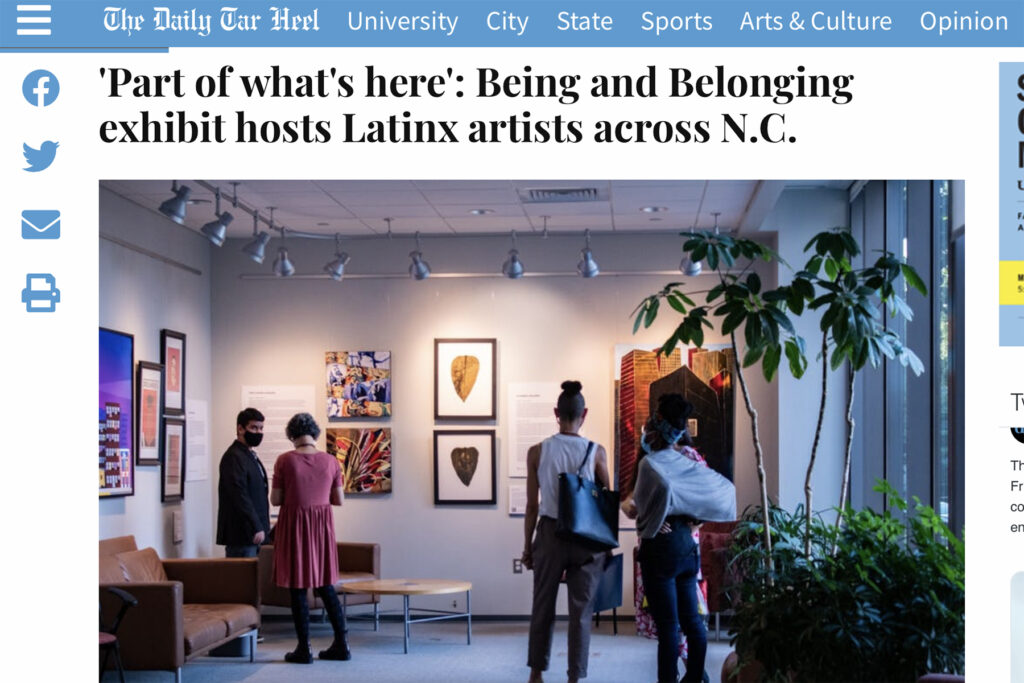 Ameigh is a Puerto Rican abstract artist based in Raleigh. She works primarily with acrylics and oils with cold wax. The series she is currently working on focuses on exploring heritage and what it means to be a part of a diaspora.
"Letters to the Homeland 3″ (2021) is one of her pieces showcased in the exhibition and represents for her a time where she had to make a decision, she said.
"​​When you move somewhere different than where you're from, you come to an intersection where you're neither from there nor the other place," Ameigh said. "You're kind of somewhere in the middle of the two."
She said being in that position offers a unique perspective on belonging.
"You're incorporating things from where you grew up, as well as places from the new place you're in, if you've been there long enough," she said. "And if you try to move back, you've been gone too long. And if you stay where you are, you'll never be anything other than somebody that moves there from somewhere else. It's just what happens."
Ameigh said that she hopes this exhibit will provide role models for younger Latinx artists.
Exhibition impact
As a whole, Le Chevallier said that the exhibition showcases Latin American artists in a way that combats stereotypes.
"I think it's really important to change that narrative," Le Chevallier said. "And to put them in a good light. Latino immigrants are really hard-working, and they come here and they take on a lot of jobs and they do positive thing for our communities, and they're not rewarded like they should."
The "Being and Belonging: Perspectives in North Carolina" exhibit highlights Latinx voices in the community, Ameigh said. She said that each artist brings with them stories that are completely tied and interlaced with their history and heritage.
"We are part of what's here in North Carolina," Ameigh said.