Recently the crew from North Carolina Weekend and PBS stopped at Artspace and Bel-Air Art Center too! Thank you for your interest in these amazing art establishments which both host a diverse group of working artists!

p.s. I feel so lucky that my art is in both locations! And in one of the photos, it looks like the show's host Deb Jolt Noel is looking at one of my paintings at Bel-Air Art Center! 🙂

From the show's description:
North Carolina Weekend explores "Handcrafted Arts" around the state including a visit to the Yadkin Valley Fiber Center in Elkin, Mary's Gone Wild folk art gallery in Supply, a tour of Artspace in Raleigh, a profile of the eight generations of Bolick potters in Lenoir, and a tour of Penland School of Craft.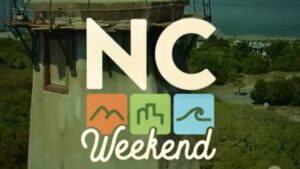 To watch the episode, the video is linked below: